Have Your Event at Bear Creek Lodge!
Weddings, family reunions, corporate and team building events, snowmobile clubs, class reunions, or retreats, Bear Creek Lodge can accommodate all your needs. We have beds for 45+ and extra sleeping accommodations can be arranged for events.
Occupancy limits
Indoor event 150 people standing room only
Indoor event 100 people chairs only

Indoor meal 70 people tables and chairs, 2 levels
Outdoor event 300 people
Outdoor event 250 people chairs and some tables

Current Events at the Lodge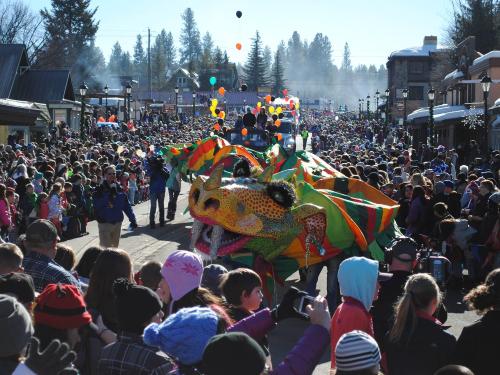 Upcoming Events:
January 25-February 3 McCall Winter Carnival 2019 go to McCall.chamber.org/winter-carnival for more info!
McCall Ultra Challenge Dog Sled 300 mile Race from Bear Creek Lodge!
January 30 11am start at Bear Creek Lodge
February 1 4pm-11pm estimated finish at Bear Creek Lodge

Family Reunions!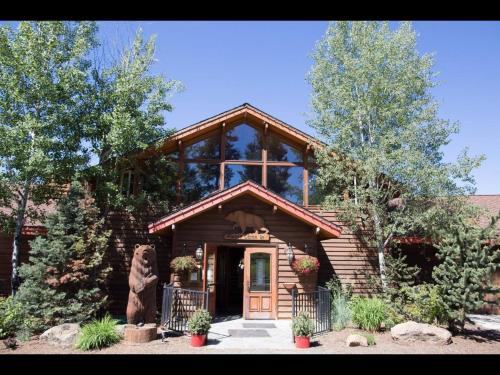 Thank you for considering Bear Creek Lodge for your family reunion. Our package is designed to give you a minimum of three adventure filled days and two fun filled nights. You can spend time with the people you love and cherish the most and create memories of a lifetime in this nature-lover's paradise.
Surrounded by the beautiful Payette National Forest, sits our exclusive 65-acre property, complete with rolling grassy meadows, a large pond and fountain, beautiful log gazebo, outdoor hot tubs, horseshoe pits, and large stone fire pits for your family to enjoy. Rent Polaris RZRs and tour the forest trails. Ride the lift at Brundage and ride your mountain bike down or just enjoy the view. We are only minutes from Payette Lake for boating, jet skis, kayaking, and swimming. McCall has numerous golf courses, parks, gift shops and more! Winter comes with its own unique beauty, and activities like skiing, snowshoeing, snowmobiling right from the lodge, the list goes on. Any time of the year, our unique property and beautiful location will give you and your family a one of a kind experience.
Bear Creek Lodge is a spectacular location for your family reunion. Lodging is available for sleeping a maximum of 46 adults and 18 children (10 on floor space) in our inviting rustic Lodge and Cabins. Activities and adventures in every season await you and your family.
Extra accommodations for events can be arranged if needed, a minimum of 30 days advanced notice and owner approval is required. Extra costs will apply. Lodge Policies and Procedures for guests apply. Pet Policy of $25 per animal per night is enforced, 30 days advanced notice is required for any pets coming to the lodge. Fees will be applied accordingly. Any unreported pets will be fined a $100 fee or refused permission to stay on lodge grounds.
Bear Creek Lodge Family Reunion Package
Bear Creek Lodge is open for family reunions year-round. Our reunion package is for exclusive use of the Lodge, Cabins and grounds. The package includes:
• Minimum 2 night/3 day stay at the Lodge with beds for 48+ people. We can accommodate extra guests when needed, cost will vary. Limited tent and no-hookup RV sites available. Prior arrangements must be made.
• EXCLUSIVE use of the Lodge!
o Great Room
o Refrigeration space
o Mezzanine
o Theater
o Hot Tub
o Lodge deck with expansive views
• The ENTIRE Grounds!
o Creekside Meadow
o East & West Yards
o North Yard (Great for games) including Fire Pit & Horseshoe Pits
o North Field including Pond & Gazebo
o BBQ's, 8' Picnic Tables & More!
Reserving the entire property guarantees that your family event is not disrupted by outside guests and gives you control over all activities, within our guidelines.
We reserve our 7 Lodge rooms, 2 Double Queen Cabin Rooms, 2 King Cabin Rooms, the Suite and the 2 Family cabins on the property for your complete privacy. All rooms have private decks looking over the property, high-speed Internet, flat screen televisions, vaulted ceilings, small refrigerators, microwaves, Keurig coffee makers and boast a gas fireplace (except Boulder Lake Buck, ADA). Our cabins offer a bit more space and have large bathrooms with jacuzzi tubs. Please check out our rooms for pictures and more information about our accommodations.
Bear Creek Lodge requires a 50%(plus tax) non-refundable deposit to hold your reservation. The remaining balance is due 30 days prior to your event. No events with unpaid balances will be held at Bear Creek Lodge. Guests are responsible for their meals or catering. Lodge Policies and Procedures must be maintained at all times.
For questions on pricing, or to schedule an appointment to tour the Lodge and property, please don't hesitate to contact us at bcl.mccall@gmail.com or call us at 208-634-3551. We look forward to planning this special event with you!
Warmest Regards,

Bear Creek Lodge